TICKET BOOTH RENTALS
serving Northern California since 1991
by Admit One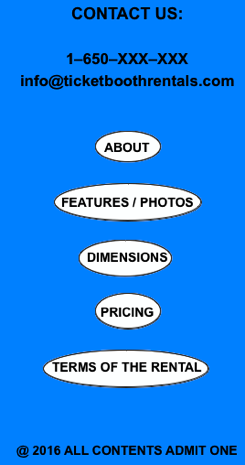 Booth Rental by the Week or Month
Weekly Booth Rental (two booth minimum):
$250 per booth
Monthly Booth Rental:
$725 per booth
Long Term Rental:
Special long term rates available
_________________
Delivery/Return Charges
Delivery is charged by the load.
Four booth maximum per load.
Minimum delivery charge is $250
(includes delivery and return)
Delivery charge will vary with distance.
___________________
Sales Tax
State law requires sales tax to be charged on all rentals and delivery.
_____
We will gladly answer your questions and give a price quote for your specific needs.
_____