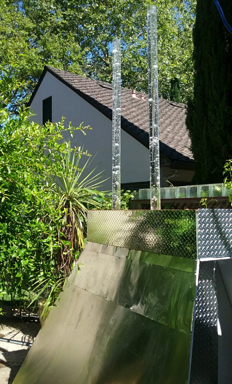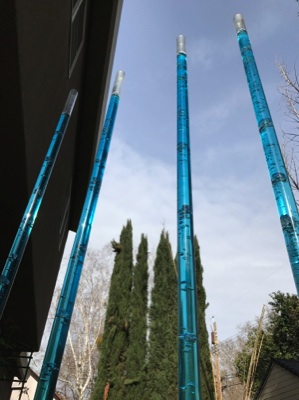 City of Manhattan Beach "Beach Bubbles"
The "Beach Bubbles" sculpture is a 6-foot pedestal upon which are installed four 6-foot acrylic plastic tubes, 3-inches in diameter. These large tubes are the focal point of the piece and they are filled with blue-hued water through which large and fanciful bubbles travel towards the heavens. The light catches the dancing bubbles and they sparkle and shine as they rise through the tubes and metamorphose into myriad shapes and sizes. It brings to mind the wonderful kinetic joy of improvised beach play. The sculpture is whimsical, eye-catching and engaging.
My proposal for the Sculpture Garden is one that harkens back to my childhood, spent at the ocean in Manhattan Beach. I grew up very near the water (36th Street) and most of my free time was occupied with beach play: water, waves, surf, sun, sand and sand dunes. The art piece I am submitting attempts to capture some of the unrestrained pleasure and joy that frolicking in the water provided young persons in a simpler time and space. The bubbles represent several things; first, the sensation of swimming under water and through waves. Second, the bubbles symbolize the imaginative, ephemeral nature of childhood play. Third, the blue-tinted liquid reflects the water and the sky and the feeling of being enveloped in an infinity of aqua-colored serenity.
This piece is meant to have a presence which commands the space, even from a distance. The 6-foot tubes, erected on a 6-foot pedestal, will loom large above pedestrians. The pedestal itself is constructed with shiny steel that will mirror surrounding greenery and sky, emphasizing the beauty of natural elements. The light that hits the bubbles will convey a luminescence, a sparkling reflection that will entertain the eye from afar.